Agenda
Geplaatst door: Spaces
Amsterdam Talks Tech // The Food Waste Edition
Locatie
Spaces Herengracht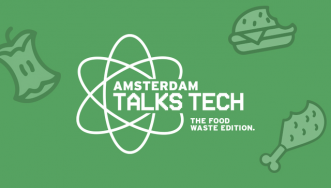 One third of all food worldwide is thrown away, left uneaten and unused, forcing us to come up with innovative solutions for dealing with the food waste problem. That's why we've invited the industry shakers, futurists and environmental pioneers who are paving the way towards a circular and sustainable economy together.
SPEAKERS
Freke van Nimwegen // Co-founder Instock
Joost Rietveld // Managing Director Too Good To Go Netherlands
Nina Hoff // CEO & Co-founder byFlow
Helen Kranstauber // Co-founder and Partner Food Cabinet
Rick Reesen // Innovation Lead IBM
PROGRAMME
6pm // Dinner bites and drinks
7pm // Two blocks with talks and Q&A
9pm // More drinks
This event is brought to you by Rabobank and Spaces.
Date: Tuesday May 7
Location: Spaces Herengracht
Time: 18:00 – 21:30
Entry: €10 Members // €15 Regular