Agenda
Geplaatst door: Spaces
Amsterdam Talks Tech: The Smart Living Edition
Locatie
Spaces Herengracht (124-128)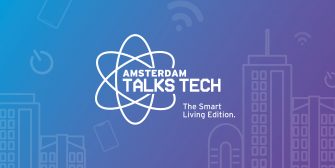 The future of living is smart. Ingenious innovations in IoT, smart homes and co-living are reshaping our homes from inside out. Ever wondered what our housing situation will be like in 2050? This is the moment to find out.
ABOUT
For this event, we've invited speakers to discuss what it would be like to live in 2050. With an estimated 70% of the global population residing in cities, urbanisation will increase even further. If we want to keep this sustainable, we're going to require different solutions and new ways of thinking. Join us and learn about the ground-breaking innovations in technology, social initiatives and opportunities in this exciting new industry.
SPEAKERS
Emile Nijssen // Co-founder and Creative Director Athom
Emile is the co-founder of the Dutch Athom, known for their smart and friendly IoT home hardware gadget called Homey. Though small, lil' Homey packs a massive punch as a handy control center for any smart home setup – straight from the comfort of your smartphone. Homey is available internationally, comes with all the best integrations and it even looks really nice. Who wouldn't want this in their living room?!
Ferdinand Grapperhaus // Co-founder and CEO PHYSEE
Keep an eye out for PHYSEE, because you're going to be seeing a lot of them without even knowing it. Their SmartSkin is placed over windows, letting the facade of any building generate electricity and save energy. What's more, it even functions as a sun screen or as air ventilation. It's not just offices that can be made smarter, they've introduced the product to the housing market as well. The window to the future is wide open.
Hans Meyer // Co-founder & Managing Director at Zoku
With the rising number of people living in urban areas, we must reconsider the way we regard space. At Zoku, they've come to realise that a long time ago. The Amsterdam-born futuristic hotel concept offers an ideal homebase for the travelling professional, providing space to live and work from several days to several months. No longer should we regard a space as a one-dimensional, single-use room. In finding new ways of living, Zoku's hybrid shared spaces provide a peek at what we can expect in the future.
More speakers TBA