Agenda
Geplaatst door: B2B.Commerce - Madia
B2B.Commerce Seminar – Fire up your B2B e-commerce!
Locatie
Videolab - Torenallee 20
Organisatie
B2B.Commerce - Madia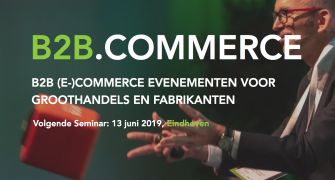 Als je begint met het opzetten of verbeteren van je B2B e-commerce strategie, komen veel vragen naar voren. Simpel gezegd begint vaak met de vraag: "Waarom hebben we een e-commerce strategie nodig?" of "Waarom moeten we onze strategie verbeteren?" gevolgd door "Hoe gaan we dit aanpakken?".
De B2B.Commerce Seminar op 13 juni geeft je praktische antwoorden op deze vragen door middel van een kennissessie en rondetafelsessie met experts.
Waarom bijwonen?
– Inzichten in de laatste B2B e-commerce trends
– Een blik op de toekomst van digitalisering in B2B
– Voorbeelden van typische B2B e-commerce cases
– Handvatten voor het opzetten of verbeteren van een e-commerce strategie
– Inzicht in hoe een goed ingericht B2B e-commerce platform eruit kan zien