Agenda
Geplaatst door: MarketingTribune
Branded Content Event 2019
E-mailadres
marketing@bbp.nl
Organisatie
MarketingTribune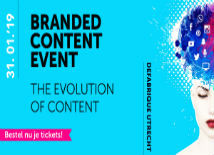 THE EVOLUTION OF CONTENT
In elke evolutie is sprake van strijd. Wie is de beste? Juist op het gebied van content marketing is het zaak top of mind te worden en blijven. We zien allemaal de trends in de evolutie. Er is een shift van kwantiteit naar kwaliteit. Dankzij data kun je de content veel persoonlijker maken. Facebook gaat de strijd aan met YouTube. We gaan van push naar pull: hoe maak ik mijn merk geliefd en creëer ik echte engagement? Hoe schaak ik op het veld van social media met vluchtige content op Instagram en in de livestream video's op Facebook en Snapchat?
Influencers rule!
Ook het structureel inzetten van influencers voor merken is booming met als nieuwste ontwikkeling: de volledige automatisering van het vinden van influencers passend bij je merk. Of de toename van brand activism in content campagnes waarbij merken steeds meer sociale en maatschappelijke thema's omarmen.
Uitdaging blijft!
Kortom: de evolutie van contentmarketing dendert door. We kunnen niet achterover hangen. Integendeel: de grootste uitdaging voor marketeers is om content vanuit het merk relevant te maken voor consumenten en klanten. Om daadwerkelijk te leren wat de investeringen in al die verschillende vormen van content eigenlijk opleveren (ROI!).
Hoe verder?
Tijdens het Branded Content Event 2019 bieden we via diverse keynotes en cases volop inspiratie en handvatten hoe je als marketeer de beste ideeën haalt uit de nieuwste trends binnen contentmarketing.
NIEUW DIT JAAR!
Dit jaar wordt er i.s.m. FD Mediagroep Effect ook een B2B track met specifieke B2B cases toegevoegd aan het programma.