Agenda
Geplaatst door: NCD
CHANGE in Business
E-mailadres
bijeenkomsten@ncd.nl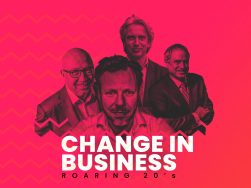 De afsluiting van CHANGE in Business op donderdag 20 februari 2020 in Amersfoort. Host Gerard van Vliet gaat in gesprek met inspirerende ondernemers Ben Tiggelaar, Luc van Bussel, Guido Thys en Menno Lanting.
De reeks Change In Business bijeenkomsten wordt op 20-2-20 afgesloten met een blik op de komende periode. Een periode die alleen maar CHANGE zal geven. Hoe ga je om met de vele dilemma's en hoe ben JIJ degene die de inspirerende antwoorden gaat geven?
Van ICT naar Digitaal, Purse of Purpose, shareholder of stakeholder, om er maar een paar te noemen.
Wat blijft er überhaupt nog over van leiderschap? Welke skills moet je als leider hebben om het mijnenveld te herkennen en erin te navigeren?
De meest inspirerende storytellers van Nederland geven hun bespiegelingen en hun antwoorden. Een unieke kans!