Agenda
Geplaatst door: CM.com
CM.com Inspires: The Future of Customer Experience Starts Now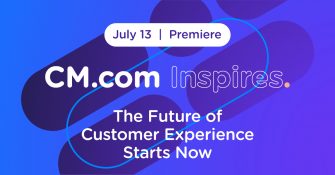 CM.com Inspires: The Future of Customer Experience Starts Now
Many businesses use CM.com to be in close contact with their customers. That's why we're launching an all-new video series about customer experience! It's the perfect way to explore all the possibilities that we can offer.
In this video series you'll discover:
• Why customer experience is critical for any business.
• How development, customer service, marketing & sales can make an impact together.
• How you can best leverage our technology, including in-depth demos.
Find out how you can improve customer experience with CM.com and win 3 tickets for you and your colleagues for the Heineken Dutch Grand Prix on September 5th.
Register now to be inspired on July 13