Agenda
Geplaatst door: Media Perspectives en Nederlands Instituut voor Beeld en Geluid
Cross Media Café – Data en AI voor media
Plaats
Hilversum Media Park
Locatie
Theaterzaal 1, Nederlands Instituut voor Beeld en Geluid
E-mailadres
info@mediaperspectives.nl
Organisatie
Media Perspectives en Nederlands Instituut voor Beeld en Geluid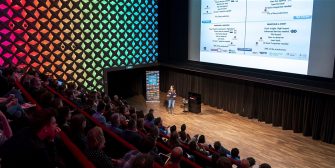 Advertising, metadata, contentcreatie, merkbeleving, hoe kan Artificial Intelligence (AI) media helpen? Wat meet je, waarom meet je dat en hoe zet je dat om naar intelligente systemen? Op dinsdag 11 februari hoor je het tijdens het eerste cross media café van 2020.
Programma
14:00-15:15 – Deel 1
15:15-15:45 uur – Pauze en bezoek aan demo's
15:45-17:00 uur – Deel 2
Vanaf 17:00 uur – Netwerkborrel
Met presentaties van o.a.:
– Anne Schuth, Head of News Data bij DPG Media
– Gijs van Beek, co-founder van Textgain. De algoritmen van de startup kunnen zelfstandig op grote schaal teksten analyseren en converteren naar kennis en inzichten
– Tim den Uyl, Managing Director van VicarVision, VicarVision ontwikkelt state-of-the art oplossingen en producten voor computer vision, waaronder de emotie-analyse software FaceReader.
– Vincent Koops, Multimedia analysis and AI generated promos bij RTL Nederland
– Jim Stolze, oprichter van Aigency, een international network van AI experts, en de initiatiefnemer van de Nationale AI Cursus, waar elke Nederlander kan leren over AI en de toepassingen ervan.