Agenda
Geplaatst door: Frankwatching
Customer Data Conference 2021
E-mailadres
events@frankwatching.com
Organisatie
Frankwatching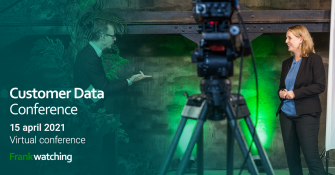 Het online event over data driven marketing, personalisatie & conversie
Marketing draait om de juiste boodschap aan de juiste persoon, op de juiste plek en tijd. Voor de optimale klantervaring moeten je klantdata dus van topkwaliteit zijn. Hoe bereik je met data driven marketing dat mensen nóg beter geholpen zijn en zo de conversie wordt verhoogd? En welke stappen moet je nemen om alles goed te organiseren?
Ontdek op Customer Data Conference hoe je met de juiste aanpak van data analytics & marketing automation kunt groeien als customer centric organisatie. Of je nu klein of groot bent, B2C of B2B-speler.
Tijdens deze virtuele editie waan je je op een conferentie zoals altijd: check in bij keynotes en kies zelf naar welke breakout-sessies je gaat. Stel vragen aan sprekers en connect met andere bezoekers.
Komt het live-moment niet uit? Bekijk dan later alle opnames en presentaties terug.