Agenda
Geplaatst door: BBP Media
Grand Prix Content Marketing
Locatie
Postillion Convention Centre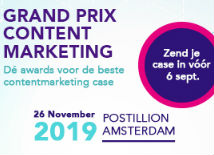 Op 26 november 2019 worden tijdens Grand Prix Content Marketing de Awards uitgereikt voor de meest succesvolle contentstrategieën en Bekroningen voor uitblinkende contentproducties.
De Grand Prix Content Marketing zijn beloningen voor de beste contentmarketing-cases en de beste contentproducties in Nederland en België. De Grand Prix bestaat uit Awards voor de meest succesvolle strategieën en uit Bekroningen voor uitblinkende producties in specifieke categorieën.
Contentmarketing naar het volgende niveau tillen. Het, inmiddels volwassen geworden, vak vieren. Mooie dingen laten zien en inspirerende voorbeelden delen van de kwaliteit die gemaakt wordt in Nederland en België. Daar gaat het over bij de Grand Prix Content Marketing en daar kun jij onderdeel van zijn. Graag zelfs! Maak kans op een Bekroning of zelfs op nominatie of het winnen van een Grand Prix in een van de hoofdcategorieën. Inschrijven kan uiteraard vanuit zowel bureauzijde als vanuit opdrachtgeverszijde. Meld je vandaag nog aan en start daarmee het traject om je motivatie van jouw case met de jury te delen. Behoor jij tot de top in contentmarketing in de Benelux? Zend dan nu jouw case in en maak kans op een Grand Prix Content Marketing Award of Bekroning. Inzenden is mogelijk tot en met 6 september.