Agenda
Geplaatst door: Adformatie
Het Grote Marketing Congres
Locatie
Het Concertgebouw
E-mailadres
info@24festival.com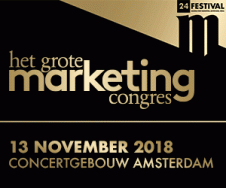 Vertrouwen. In overheid, merken en media. De belangrijkste basis voor duurzame relaties. Maar de wereld is verward! Ons vertrouwen staat onder druk. Want waarom vertrouwen we banken en CEO's niet, maar verhuren we ons huis wél met het volste vertrouwen aan een volstrekt vreemde? En waarom is het vertrouwen in 100 jaar oude merken verdwenen, maar vertrouwen we wél blind op een goede avond met één swipe naar rechts?
Het Grote Marketing Congres 2018 helpt in de zoektocht naar de 'holy grail'. Hoe zorg je als merk voor duurzame relaties? Investeer je in het herstel van vertrouwen of in het opnieuw bouwen ervan? In product excellence of customer centricity? Mik je op fijnmazige data of juist op de massa? Met een programma boordevol sprekers, inzichten en cases laten we je zien hoe mens en merk weer in elkaar gaan geloven. En dat ook blijven doen. Raak vertrouwd met nieuwe concepten en weet wat je te wachten staat.
Vind jouw holy grail in marketing tijdens het GMC!