Agenda
Geplaatst door: HeadFirst
HeadsUp #6 'Resultaatgericht Organiseren & Managen'
Locatie
Beatrixgebouw Jaarbeurs, Jaarbeursplein 6
E-mailadres
events@headfirst.nl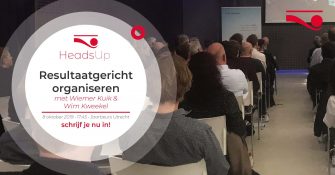 In het huidige tijdperk moeten organisaties zich snel aan kunnen passen aan veranderende omstandigheden. Goed management is de enige mogelijkheid om de continuïteit van een organisatie(onderdeel) te waarborgen. Ben je op zoek naar handvatten om die continuïteit concreet te maken? Kom dan naar de HeadsUp kennissessie 'Resultaatgericht Organiseren en Managen' op dinsdag 8 oktober!
Of je nu leiding geeft of een project begeleid binnen IT, HR, Operations, Logistiek of Finance, jij bent bepalend voor het succes! Ook voor de individuele deelnemer binnen een team, project of afdeling biedt deze methodiek aanknopingspunten en voordelen. Centraal staan de structuur en mindset om continu te blijven verbeteren. De volgende elementen komen daarbij aan bod:
– relevante IT-trends en de gevolgen daarvan voor organisatie;
– waarom dit vooral geen IT probleem is;
– hoe je een digitale transformatie aan kunt pakken (met praktijkvoorbeelden);
– de pijlers van een goede (digitale) transformatie.
Altijd al willen leren hoe je verbetering kunt identificeren en aanbrengen binnen een organisatie? Meld je dan snel aan!