Agenda
Geplaatst door: BBP Media
Influencer Marketing Event 2018
E-mailadres
j.jacobs@bbp.nl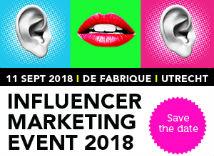 Marketeers proberen telkens weer nieuwe manieren te vinden om hun doelgroep te bereiken.
Influencer Marketing is voor een steeds groter aantal merken een succesvolle keuze. Deze vorm van marketing is natuurlijk niet nieuw. Al decennialang zien we merkambassadeurs en celebrities producten en merken aanprijzen.
Influencer Marketing is volwassen aan het worden. Er komen steeds meer influencers, die steeds meer samenwerkingen met merken aangaan. Hoe zorg je voor voldoende geloofwaardigheid van je merk en hoe val je nog op?
Wat zijn de nieuwe trends: wat is bijvoorbeeld de rol van livestreams binnen Influencer marketing, hoe gebruik je inzichten vanuit data en moet je voor je merk macro- of juist micro influencers inzetten?
Maar ook: hoe onderzoek je het effect? Hoe zorg je dat je investeringen ook echt resultaat opleveren? Hoe pak je het aan en met welke partijen werk je samen?
Kortom: HOE ZET JE INFLUENCER MARKETING SUCCESVOL IN VOOR JE MERK?
Voor iedereen die al ervaring heeft met Influencer Marketing of er juist mee wil beginnen, laat je inspireren tijdens het Influencer Marketing Event op 11 september 2018!