Agenda
Geplaatst door: Encore
IoT Tech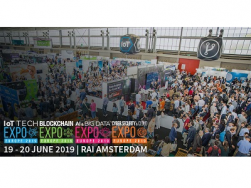 Arriving in Amsterdam on the 19-20 June 2019, the co-located event series covering IoT, AI, Big Data, Cyber Security, Cloud and Blockchain, will host 10,000 attendees from across Europe and beyond to explore Manufacturing, Transport, Finance, Supply Chain, Healthcare, Retail, Logistics, Government, Energy, Automotive and more.
4 co-located events. 21 conference tracks. 10,000 attendees. 500+ speakers. 300+ exhibitors.
This year's agenda will highlight the most innovative advancements in technologies. There will be case studies and dedicated conference streams covering the entire emerging technology ecosystem. There will also be a co-located exhibition showcasing the latest innovations in action, in addition to dedicated networking opportunities.