Agenda
Geplaatst door: VU Amsterdam
Masterclass Digital Platforms & Ecosystems
E-mailadres
kincenter.sbe@vu.nl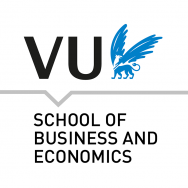 Given the overall trend towards digitalization of products and services, increasingly organisations find themselves moving towards digital platforms and develop ecosystems around such platforms.
Digital platforms are emerging in transport (Uber, BlaBlaCar), media (Blendle, YouTube), finance (open banking), hospitality (AirBnB, Couchsurfing), software and apps (Android), entertainment, game consoles, smart homes, and many other sectors and industries.
Such platforms facilitate new forms of interaction between different groups of users and offer opportunities for new forms of value creation as well as potential to disrupt traditional industries.
But what exactly are digital platforms and platform ecosystems? How do you know which strategy is most appropriate for your organisation? And how can you effectively manage and cultivate them? In this masterclass we will address these and related questions to help you recognize the challenges and opportunities of platform ecosystems.
During this masterclass we will talk about digital platforms & ecosystems by addressing the four quadrants of the Platform Management Model:
(1) Value
(2) Strategy
(3) Architecture
(4) Governance
This model was developed by drawing on the wide range of scientific research done in the field of platforms. We will discuss the four quadrants by building on examples from our research at various organisations and industries to discuss some of the fundamental challenges and opportunities of platform ecosystems.
This masterclass is organised by Vrije Universiteit Amsterdam and will be offered by researchers who studied platforms in various contexts. For example, Fleur Deken will talk about how Philips launched and managed its ecosystem surrounding their Philips Hue lightbulbs. And Hakan Ozalp will talk about what we can learn from the complexities from the US Video Game platform industry.