Agenda
Geplaatst door: YESDelft!
Meet the startups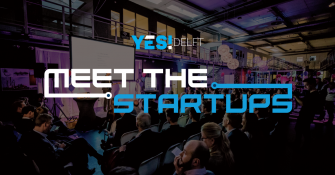 At our yearly Meet The Startups showcase event, we offer a sneak peek at cutting edge innovations from our tech incubator. This is a unique opportunity to get acquainted with what is happening on the front line of tech innovation and connect with the vast YES!Delft ecosystem!
This year we're celebrating the fifth Edition of Meet the Startups, so we have prepared an extra special edition that is sure to blow you away! So what can you expect? An afternoon full of innovators showcasing their latest technologies, of course, meeting our ambitious entrepreneurs, getting hands-on and trying out cutting edge tech products yourself at our Innovation Playground and help entrepreneurs (and yourself) to take the next step.
We encourage all our guests to share their network, operate as (launching) customers, and accelerate innovation with pilot projects. And if that is not enough- you have the chance to win a SOMNOX sleep robot!