Agenda
Geplaatst door: OHM
OHM 2013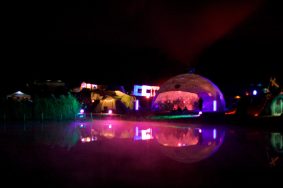 OHM2013. Observe, Hack, Make. A five day outdoor international camping festival for hackers and makers, and those with an inquisitive mind. On 31st July 2013, 3000 of those minds will descend upon on an unassuming patch of land, at the Geestmerambacht festival grounds, 30km north of Amsterdam – OHM GIS – OpenStreetMap – Google Maps.
It is a four year tradition in The Netherlands to hold such an event. In the spirit of WTH, HIP and HAR the latest edition, OHM2013, is a non-commercial community run event. The event happens thanks to the volunteers, all 3000 of them. They will run the network, help people around the site, give talks, hold workshops and be excellent to one another.
The target audience includes free-thinkers, philosophers, activists, geeks, scientists, artists, creative minds and a whole bunch of people interested in lots of interesting stuff.