Agenda
Geplaatst door: Bittiq
Open Banking Beyond Banks
Locatie
Utrecht, Europalaan 100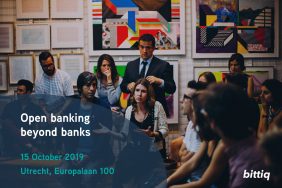 October 15th at 16.00 h
@ Dot Slash
Hosted by Bittiq
>>>Learn & get inspired on Open banking
At Bittiq we are triggered by the challenges that companies in non-banking industries are facing to join the open banking era. This inspired us to host an event where experts in finance, innovation, technology, customer experience, and open banking learn from each other to excel in this open banking realm.
Currently, PSD2 is opening new opportunities for companies in different industries to have more relevant interactions with customers. In this edition of "Open banking beyond banks," we explore how insurance companies are guiding their innovation strategy and how can they deliver more value to their customer with this technology. We are sure that the transformation for the insurance industry with Open banking is just starting, and we see the potential to encourage it through this event.
This event is focused on business & leaders in the Insurance industry who are involved in open banking or digital innovation. It is also interesting for professionals working with this technology as developers, Product Owners or UX designers. We welcome all professionals who contribute to the interesting discussion we are looking for.
The event will be held in English. We will create content to share the key learnings with the attendees and the community.
>>>Agenda<<<
16:00 Registration & welcome coffee
16:30 Welcome words by Bittiq
16: 45 Panel 1: Technological challenges faced by the insurance industry in the open banking space.
17:25 Break & networking
17:35 Panel 2: The relevancy of customer experience in the time of zero customer loyalty.
18:15 Closing words: A Fintech perspective in Open Banking
18:30 Drinks!