Agenda
Geplaatst door: Insider
RESHAPE
E-mailadres
marketing@useinsider.com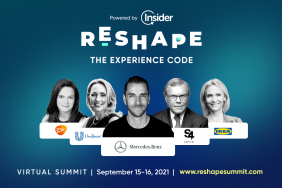 Maak je op voor het event van het jaar! RESHAPE: The Experience Code op 15-16 september. RESHAPE is een tweedaagse virtuele summit gericht op wereldleiders, technologische visionairs en vooruitstrevende makers en zal ruim 10.000 deelnemers en 100+ A-sprekers samenbrengen.
Eregast en keynote spreker tijdens dit event is niemand minder dan President Barack Obama!
Dit is je kans om verhalen te horen van top B2C-leiders over transformatie, verschuivingen in klantervaring, leiderschap, duurzaamheid en diversiteit.
Een voorproefje van de line-up:
Hanneke Faber President Global Foods & Refreshment, Unilever
Gillian Tans, Chairwoman, Booking.com
Sir Martin Sorrell, Executive Chairman, S4 Capital Group
Carolina García Gómez, Global Digitalization Manager, IKEA
Peter Larko, Director of Marketing & PR, Mercedes-Benz AG
Emma Duckworth, Directeur of Data Science, GlaxoSmithKline Consumer Healthcare, L.P.
Schrijf je nu in voor dit gratis event!