Agenda
Geplaatst door: BBP Media
ShoppingTalk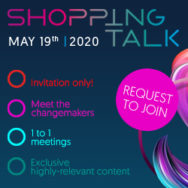 BBP Media en Thuiswinkel.org presenteren een nieuw evenement voor de Nederlandse digital commerce top: ShoppingTalk.
ShoppingTalk is het resultaat van een veel gehoorde wens uit de markt en een concrete behoefte: die aan een high level event over digital commerce in Nederland.
De crème de la crème onder de vakgenoten komt op 19 mei bijeen in het Beatrix Theater om kennis te delen. Hoofdingrediënten van dit innovatieve event in Utrecht: exclusieve content, netwerken op hoog niveau en 1 to 1 meetings.
Voor wie?
ShoppingTalk is bedoeld voor digital commerce professionals met eindverantwoordelijkheid bij leden van Thuiswinkel.org of bij de 250 bedrijven uit de Twinkle100. Ook experts van ShoppingTomorrow zijn genodigd voor het kosteloze event. Ambitieuze e-commerce professionals die niet tot bovenstaande doelgroepen behoren kunnen een 'request to join' indienen.