Agenda
Geplaatst door: Techwatch B.V.
Software-Centric Systems Conference
E-mailadres
events@techwatch.nl
Organisatie
Techwatch B.V.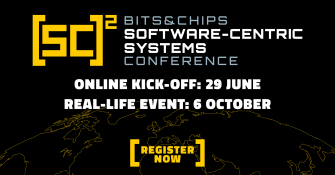 The Software-Centric Systems Conference brings together leading figures from industry and academia in the heart of the Brainport region, home to Philips, ASML and many other renowned multinational and international companies.
Facilitating the exchange of knowledge and experiences, the conference helps them with the use of technology, to drive innovation and to provide insight in emerging trends. Through an inspiring program of structured and informal networking they can share ideas on how to make the software engineering process more reliable and more efficient, in order to improve the time-to-market and time-to-value.