Agenda
Geplaatst door: Enrise
The Subscription Economy: Grow To Infinity and Beyond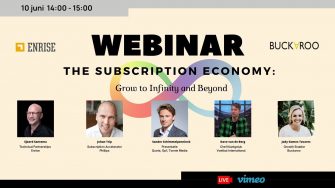 Sander Schimmelpenninck presenteert het webinar The Subscription Economy: Grow To Infinity and Beyond op donderdag 10 juni om 14:00, waarin Enrise je, samen met andere experts, meeneemt in de wereld van de subscription economy.
Abonnementen zijn de perfecte manier om klanten aan je te binden en te werken aan groei en recurring revenue. Maar het implementeren ervan kent een paar unieke uitdagingen. Voor dit gratis webinar zochten we samen met betalingsprovider Buckaroo een aantal experts bij elkaar die jou kunnen helpen om de eerste stap te zetten.
Wat je leert in dit webinar:
– Hoe lanceer je een abonnementsdienst die echt onderscheidend is in een wereld waar alles een abonnement geworden is?
– Wat moet er in je organisatie en in je IT veranderen om een ervaring te bieden die de hyperkritische consument aan je bindt?
– Welke techniek kies je om je subscriptions te realiseren?
– Hoe richt je je betaalsysteem in voor abonnementen?
– Hoe ga je om met betalingen en herinneringen?
– Hoe schaal je, na het eerste succes, op naar the next level?