Agenda
Geplaatst door: ThingsCon
ThingsCon 2019
Locatie
Het Nieuwe Instituut
E-mailadres
info@thingscon.org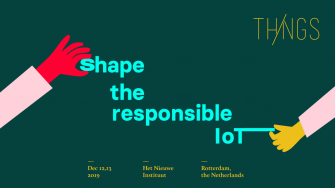 The Annual ThingsCon conference will take place 12 & 13 December in Rotterdam at Het Nieuwe Instituut. Thingscon – Europe's leading conference on the responsible IoT and beyond – the place where the pioneers of responsible & ethical tech come together to shape the future.
If your work involves designing connected products, or if you are involved in creating the frameworks we use to think about them (through policy, media, or academia), you don't want to miss this all new edition.
In this edition, we will more than ever focus on reviewing what has happened this year and how to shape the (near) future for the better. We want to reflect and use the insights in shaping preferable futures. Not only by talking, especially by doing. By making and/or designing the images of the future. Mixing experts in the field, facilitators and you.
JOIN NOW & WALK THE TALK
No empty promises and abstract future scenarios. Walk the talk and actively help shape the future of responsible techNOLOGY.
Learn the latest technologies, systems, design techniques and visions on IoT and beyond. Get to know the latest responsible tech insights and tools and be part of the leading discourse.
SPEACIAL DEAL ENDS 1 DECEMBER 2019
https://www.eventbrite.nl/e/thingscon-2019-tickets-77512659451