Agenda
Geplaatst door: Tony's Chocolonely
Tony's Chocolonely FAIR op 3 december
Locatie
http://fair.tonyschocolonely.com/
Organisatie
Tony's Chocolonely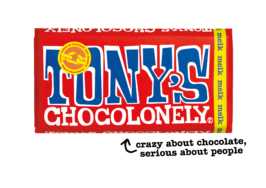 Op 3 december is 't weer tijd voor de jaarlijkse Tony's FAIR van Tony's Chocolonely. Het is een bijzondere editie dit jaar, want Tony's viert zijn 15e verjaardag en pakt daarom uit.
Op Tony's FAIR presenteert Tony's het jaarFAIRslag, wordt de impact gevierd die 't afgelopen jaar is gemaakt en wordt er vooruit gekeken naar wat ze nog te doen staat. Van cacaoboeren tot chocofans, iedereen uit de cacaoketen is er weer bij. Let's raise the bar for social change! Dat is het thema waar het dit jaar allemaal om draait.
Dit jaar is Tony's FAIR voor het eerst voor iedereen over de hele wereld toegankelijk, omdat het event helemaal digitaal is opgezet. Tony's FAIR wordt gelivestreamd tot bij mensen thuis in de woonkamer, de keuken of waar ze ook zijn. En ook dit jaar zijn er weer een aantal hele bijzondere en inspirerende sprekers uitgenodigd.
Sprekers (volgende week kondigt Tony's nog een mooie toevoeging op deze lijst aan):
Kate Raworth
Idris Elba
Hamdi Ulukaya
Rutger Bregman
Akwasi
Henk Jan Beltman
Sophie Hilbrand (presentatrice)
Registreer je via: http://fair.tonyschocolonely.com/