Agenda
Geplaatst door: Watchguard
Trusted Wireless Environment
Locatie
DUS - De Utrechtse Stadsvrijheid, Sophialaan 1, 3542 AR Utrecht
E-mailadres
mehregan@co-workx.nl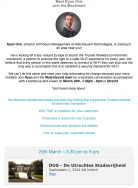 In oktober 2018 kwam naar buiten dat hackers van de Russische militaire inlichtingendienst op verschillende plaatsen in Europa (waaronder ook Nederland) en de VS wifinetwerken aanvallen door gebruik te maken van evil twin attacks.
WPA3 is niet de oplossing
De securitystandaarden van bijvoorbeeld de IEEE en de Wi-Fi Alliance bieden volgens Orsi te weinig bescherming tegen de 6 grootste dreigingscategorieën. Chipsetfabrikanten zoals Broadcom en Qualcomm implementeren standaarden die definiëren hoe 802.11 zou moeten werken, maar die zijn op het gebied van security erg 'slap'.
Dit jaar wordt de securitystandaard WPA3 uitgerold. Een stap in de goede richting, volgens Orsi, maar het biedt nog steeds niet voldoende bescherming. Gebruikers weten nl nog steeds niet of een wifisignaal afkomstig is van een legitieme bron, of van een 'evil' bron.
Wat is dan wel de oplossing?
Volgens Orsi moet er een nieuwe, open standaard komen die de security veel beter regelt, en het bijvoorbeeld mogelijk maakt om de controle over het device van de gebruiker over te nemen. Die standaard moet worden geïmplementeerd in accesspoints, televisies, IoT-devices, laptops, smartphones…
WatchGuard wil de discussie aanzwengelen, zodat organisaties zoals de IEEE en de Wi-Fi Alliance de ontwikkeling van een dergelijke open standaard op de agenda zetten. Om de druk op deze instanties op te voeren, wil WatchGuard voor het einde van dit jaar 5.000 handtekeningen verzamelen, met name van influencers binnen de wifi-industrie. Bijvoorbeeld van belangrijke gebruikersgroepen. En WatchGuard wil die influencers ook weer 'spreektijd' geven, zodat de discussie wordt aangezwengeld en de 'movement' op gang komt.