Agenda
Geplaatst door: Media Perspectives en Beeld & Geluid
Cross Media Café: Virtual Production
Locatie
Nederlands Instituut voor Beeld & Geluid
Organisatie
Media Perspectives en Beeld & Geluid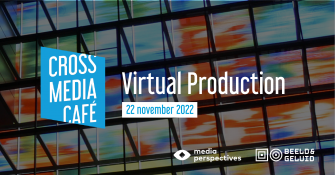 *Online en fysieke bijeenkomst**
Steeds meer onderdelen van videoproductie worden digitaal en daarmee verandert de manier van produceren zelf ook. Een voorbeeld hiervan is Virtual Production. In Nederland zijn inmiddels diverse Virtual Production-studio's te vinden. In zo'n studio toont een groot LED-scherm een filmset die wordt gemaakt in een game engine. De game engine is dan weer gekoppeld aan de camerabewegingen. Deze opzet wordt gebruikt om locaties te laten zien die slecht bereikbaar of toegankelijk zijn, of die niet (meer) bestaan. Deze aanpak verandert echter ook het pre-productieproces. Anders dan bij een green screen-opzet, ziet de presentator of acteur zelf ook de video-omgeving en kan daarin interacteren.
In dit Cross Media Café spreken we pioniers op het gebied van Virtual Production en gaan we in op mogelijkheden voor de media-industrie.
Sprekers
– Laurens Vreekamp, Auteur van The Art of AI – die ons zal bijpraten over de ontwikkelingen op het gebied van AI en allerlei video-toepassingen.
– Pim de Bilde, Oprichter Iron Films in Eindhoven, een productiestudio waar veel commercials worden opgenomen.
– Idse Grotenhuis, Creative Producer van Goede Tijden Slechte Tijden, en initiatiefnemer van Readyset Studios in Amsterdam.
– Xer Holsheimer, Uitvoerend producent bij Fiction Valley, een drama producent met vele titels.
– Carlos Pereira Santos, R&D Coordinator bij BUAS (Breda University of Applied Sciences), de eerste opleiding in Europa met een Extended Reality (XR) stage.
– Milo Boer, Solutions Consultant bij NEP, vertelt over virtual production en game-engine-mogelijkheden in een internationaal perspectief.
Praktische informatie
Het Cross Media Café zal plaatsvinden op dinsdag 22 november en is gratis fysiek bij te wonen of te volgen via een livestream.
De bijeenkomst duurt van 15.30 – 17.00 uur. Er is geen pauze tussendoor. Vanaf 17.00 uur is er voor de fysieke bezoekers een gezellige netwerkborrel!