Agenda
Geplaatst door: Emerce Academy
Deep dive Persuasieve Copywriting
E-mailadres
academy@emerce.nl
Organisatie
Emerce Academy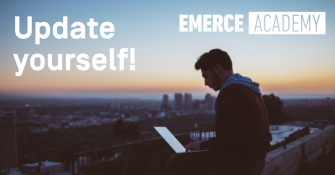 Ben je op zoek naar manieren om je doelgroep te overtuigen en ze te laten bewegen? Wil je weten hoe je de kracht van woorden kunt gebruiken om je copywriting vaardigheden naar een hoger niveau te tillen? Tijdens deze deep dive leer je hoe je effectieve en overtuigende content kunt schrijven die resultaten opleveren.
Voor wie?
Deze deep dive is bedoeld voor professionals die geïnteresseerd zijn in het begrijpen van de psychologie achter conversie en het verhogen van de conversie door middel van persuasive copywriting. Zoals (online) marketeers, webshop-, product-, en category managers, content specialisten, conversie marketeers, UX designers, marketing- en communicatiespecialisten.
Omschrijving
Door inzicht te krijgen in hoe het consumentenbrein werkt, leer je hoe je effectieve copy kunt schrijven die de aandacht van je doelgroep trekt, hun interesse wekt en ze aanzet tot actie. Of het nu gaat om het schrijven van verkoopbrieven, advertenties, e-mails, blogposts of sociale media-berichten, we zullen je de technieken en strategieën leren die nodig zijn om effectieve copy te schrijven die resultaten opleveren.
Tijdens deze training ontdek je hoe je de kennis van experts zoals Daniel Kahneman, Robert Cialdini, Siegfried Vögele en BJ Fogg kunt toepassen in je eigen situatie om je omzet en conversie te verhogen. Je leert hoe je met neuromarketing het gewenste gedrag van je doelgroep kunt oproepen.
We laten zien hoe je met persuasive copywriting de conversie van je webshop of website succesvol kunt verhogen in alle stappen van de marketing funnel. Door deel te nemen aan deze training krijg je waardevolle kennis en praktische vaardigheden die je direct kunt toepassen om je conversie te optimaliseren.