Agenda
Geplaatst door: iO
Kennissessie: Toegankelijkheid in digitale communicatie
Locatie
iO campus Rotterdam, Blaak 16, 3011 TA Rotterdam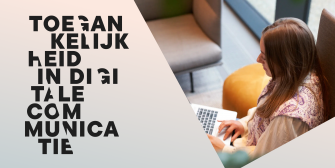 In digitale communicatie is toegankelijkheid geen buzzword of fraaie nice-to-have, maar een default mindset om te omarmen en te implementeren. Toegankelijkheid gaat hand in hand met inclusiviteit: niemand uitsluiten en je (digitale) boodschap voor iedereen beschikbaar maken. Op 25 april duiken we diep in toegankelijkheid en hebben we het over wetgeving, WCAG-richtlijnen, A11Y en nog veel meer.
Wat kan je verwachten?
Ben je een product owner, marketeer, communicatiemanager of wil je gewoon meer weten over de relevantie en de urgentie rond digitale toegankelijkheid – en hoe je het zelf waarmaakt?
Onze experts laten je zien wat digitale toegankelijkheid inhoudt, van de onvermijdelijke wet- en regelgeving, achterliggende techniek tot het toepassen van design systems en branding. Kortom: de juiste stappen zetten met je website of applicatie.
Ben je erbij? Schrijf je dan in en gebruik onze kennis in je voordeel.
http://bit.ly/3yHBcU6