Agenda
Geplaatst door: Frankwatching
SocialToday Event
E-mailadres
events@frankwatching.com
Organisatie
Frankwatching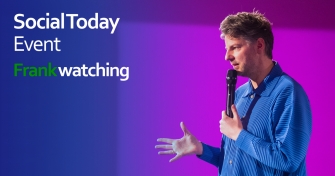 De wereld van social media schudt op haar grondvesten. Zijn de kanalen zoals we ze nu kennen écht uitgespeeld, of zorgen alle ontwikkelingen juist voor nieuwe, zakelijke kansen? Laat je inspireren en verrassen tijdens de 8e editie van SocialToday Event, het leidende event over social media marketing & storytelling in Nederland en België.
In 1 dag krijg je antwoord op vragen als: hoe bereik, overtuig, activeer en bind je je doelgroepen op LinkedIn, maar ook op TikTok, Facebook, Instagram en andere platformen waarin creators de macht hebben gegrepen? Wat is het belang van een content-first aanpak, hoe zet je deze op, en hoe creëer je unieke en creatieve content? En wat staat je merk of organisatie te wachten nu we richting de metaverse kruipen?
Inspirerende sprekers en relevante praktijkcases helpen je aan de tactieken en skills waarmee je het verschil maakt als het gaat om social in content, video, advertising en commerce.