Agenda
Geplaatst door: TNW
TNW València
Locatie
La Marina de València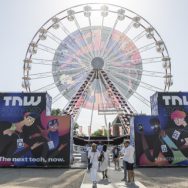 For 16 years, TNW Conference has been at the center of Amsterdam's tech ecosystem. With over 10,000 annual attendees — including founders, investors, corporates, and governments — the event delivers not only unforgettable experiences, but also real business outcomes by uncovering what's next in tech, now.
Amsterdam has experienced a rise in startup innovation listings in recent years, and there's no doubt that TNW's platform has helped magnify the journeys of startups and investors within the region.
Now, it's time for València. This vibrant city is Spain's fastest growing entrepreneurial ecosystem — and has the most startups per capita of anywhere in the country.
It's rapidly becoming the Mediterranean's startup powerhouse. And on March 30 & 31, TNW València is bringing the heart of tech to the region.