PICNIC earns title of fastest-growing technology startup in The Netherlands in 2018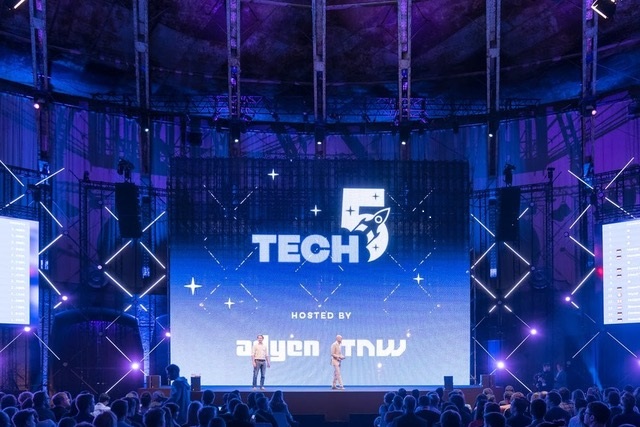 11 April 2018, Amsterdam – Tech5, the annual competition organised by TNW and Adyen just announced this year's fastest growing technology startup in The Netherlands during an awards dinner, last night, at TQ.
Attended by country ambassador Corinne Vigreux (Founder of TomTom), the top 10 Dutch finalists, and members of the press, Tech5 – through TNW and Adyen representatives – revealed that Picnic was the Dutch company with the highest revenue growth in the past two years.
Picnic is a new online supermarket that delivers groceries for the lowest price to people's homes, with no delivery costs. The company uses a smart app and a fleet of electric vans to provide groceries to more than 100,000 households in over 35 cities across two countries.
Picnic will now go on to compete against the national Tech5 winners from Germany, UK, Spain, France and Sweden for the title of "Fastest growing tech company in Europe" – the winner being revealed at TNW Conference 2018, on May 24th.
2018 marks the fifth edition of Tech5 – the European competition which scouts and awards the fastest growing startups by revenue numbers. Over the years, Tech5 has been a launchpad for companies like Transferwise, Delivery Hero, Cabify, Foodpanda and iZettle, with Tech5 alumni finalists raising over €10B in funding altogether over the last five years.
Patrick de Laive, co-founder of TNW:
"It's amazing to see how many fast growing companies have been sprouting on European soil. Aside from the ones that made the shortlists, we've seen a ton of others that had significant revenues and still continue to grow. As Europeans involved in technology, we should be proud of these highly successful startups. The Tech5 competition is here to celebrate those young companies and reveal them to a larger audience."
Roelant Prins, CCO of Adyen:
"We are thrilled to see so much activity in the European startup scene. Adyen is lucky to be in a position to work with many fast-growing startups and to help them grow by accepting payments from all over the world. We're committed to continuing that support and to accelerating growth across industries. I'm looking forward to seeing this year's winners at TNW Europe."
The Netherlands' top 10 2018 finalists (in descending order by revenue growth):
Picnic
Camptoo
Wonderkind
ReSnap
EclecticIQ
Impraise
bloomon
Tiqets
KIIROO
Otrium
Dit artikel is een ingezonden bericht en valt buiten de verantwoordelijkheid van de redactie.