Traffic Builders Winnaar 3 Global Search Awards 2020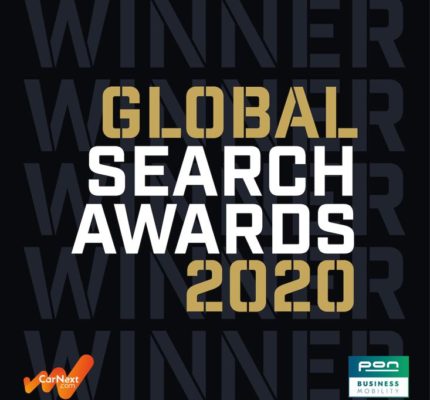 Almere, 9 september 2020 – Dinsdagavond 8 september zijn de Global Search Awards uitgereikt, de belangrijkste prijzen voor de search-industrie (PPC en SEO). Digital Marketingbureau Traffic Builders sleepte drie awards in de wacht.
CarNext.com & Pon Business Mobility
Traffic Builders was met 6 cases genomineerd voor een Global Search Award en verzilverde de nominatie in de categorieën:
– Best Use of Search – B2B SEO (Pon Business Mobility)
– Best Use of Seach – Automotive PPC (CarNext.com)
– Best Use of Social Media in a Search Campaign (CarNext.com)
CEO Wolter Tjeenk Willink: "Ik ben trots op de knappe prestatie van het team en het vertrouwen dat we hebben gekregen van onze opdrachtgevers. Met zowel Pon BM als CarNext.com werden we voor een uitdaging gesteld, waarbij de consultants en strategen slim zijn omgegaan met de ambitieuze doelstellingen, beschikbare middelen en het budget. Ondanks dat we het niet fysiek kunnen vieren vanwege de coronamaatregelen, gaan we hier zeker nog op proosten wanneer mogelijk!"
Over de Global Search Awards
De Global Search Awards zijn de toonaangevende marketingprijzen voor SEO, PPC en content marketing. Ingezonden cases worden beoordeeld door een jury van industry experts. De uitreiking had plaats moeten vinden in New York, maar door de coronapandemie was de hele uitreiking via een livestream te volgen.
Over Traffic Builders
Traffic Builders is opgericht in 2001 en gespecialiseerd in datagedreven full funnel digital marketing. Het bureau werkt volgens het eigen ontwikkelde REAN®-model. Dit marketingmodel zorgt dat budget zo optimaal mogelijk wordt inzet en de juiste doelstellingen, kanalen en boodschappen in iedere fase van het aankoopproces op elkaar aansluiten. Dit zorgt voor een integrale marketingstrategie.
Dit artikel is een ingezonden bericht en valt buiten de verantwoordelijkheid van de redactie.