Agenda
Geplaatst door: Emerce
Online Advertising Strategie
E-mailadres
academy@emerce.nl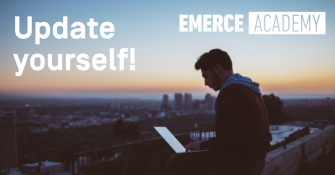 In deze deep dive leer je waarom een online advertising strategie belangrijk is voor je bedrijf en voor je team en hoe jullie deze kunnen gebruiken om optimale resultaten te halen. Als je begint met investeren in online advertising is het zonde om je budget niet zo efficient mogelijk in te zetten. Leer daarom alles over Online Advertising Strategie in deze sessie.
Tijdens deze deep dive leer je:
Uit welke onderdelen een efficiënte online advertising strategie bestaat.
Hoe je een advertising strategie kunt maken op basis van je budget of doelstelling.
Hoe je verwachte resultaten op basis van je plan kunt berekenen.
Voor wie?
Deze deep dive is wat voor jou als je wilt beginnen met online advertising of online advertising wel al inzet maar hier meer over wilt leren. Je weet hoe de systemen werken of besteedt dit uit, maar je hebt nog geen strategisch plan uitgewerkt.
Denk hierbij aan: ondernemers, algemene marketing managers, communicatiespecialisten of organisch social media managers.