Agenda
Geplaatst door: Webs
The Digital Future of B2B- Discover the impact of AI
Locatie
High Tech Campus, Conference Center
E-mailadres
events@webs.nl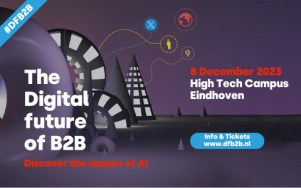 AI is niet nieuw. Netflix zet bijvoorbeeld al een tijdje je volgende favoriete serie speciaal voor je klaar. Maar generative AI bereikt nu ook de kern van ons dagelijks werk en bedrijfsvoering in B2B. We leven in een tijdperk waarin kunstmatige intelligentie (AI) de regels van het zakendoen volledig op zijn kop zet. In een tijdperk waarin technologie en AI verder gaan dan enkel trends, zijn ze de motoren achter bedrijfsgroei. Hoe zorg je ervoor dat jouw B2B-onderneming niet slechts bijblijft, maar ook uitblinkt? 🚀
En dan wordt het uitdagend leuk: hoe ga jij generative AI toepassen binnen je bedrijf? Ontdek het op The Digital Future of B2B, waar je de inzichten en handvatten zal ontvangen die essentieel zijn om jouw bedrijf te optimaliseren voor de snel veranderende markt van vandaag.
Samen kunnen we de toekomst vormgeven – jouw toekomst.
1 dag, 3 keynotes, 20 sprekers, break-out sessies, case studies, live demo's, workshops en meer over de toekomst van AI in B2B.
Inspirerende Sprekers: Leer van experts en voorlopers in de digitale transformatie.
Praktische Workshops: Doe hands-on ervaring op en ontdek hoe je de nieuwste technologieën kunt integreren in jouw bedrijfsstrategieën.
Netwerkmogelijkheden: Maak connecties met andere professionals en leiders in de B2B-sector.
Maak kennis met onze keynote sprekers:
– Maarten Steinbuch, vooraanstaande wetenschapper en professor aan de TU/e
– Remy Gieling, techwatcher en co-founder van Ai.nl.
– Jeroen van der Most, gerenommeerde AI-kunstenaar.
Waar & wanneer?
📅 Vrijdag 8 December
📍 High Tech Campus Conference Center, Eindhoven
⏱️ 8:30 – 17:00
Info & Tickets:
Tickets zijn te bestellen via: www.dfb2b.nl
Met de code 'Emerce10' ontvang je een exclusieve korting van 10% op je tickets.
Locatie
High Tech Campus Eindhoven, de slimste vierkante kilometer van Europa, is een ecosysteem van ongeveer 300 hightechbedrijven. Het is de thuisbasis van meer dan 12.000 innovators, onderzoekers en ingenieurs die de technologieën en bedrijven van morgen creëren.