Agenda
Geplaatst door: Dutch Startup Association
The Future of AI in the Cloud
Organisatie
Dutch Startup Association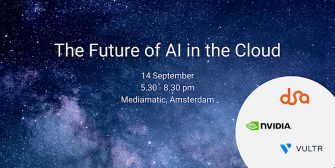 The Future of AI in the Cloud: Featuring NVIDIA on our panel
14 September, 17.30 – 20.30 @Mediamatic, Amsterdam
We invite all startups, founders, investors and all interested in AI and what it means for the pace of innovation now possible, to join us for a get-together about 'The Future of AI in the Cloud'.
AI needs no introduction as the next main disruptor, revolutionising everything at a higher pace than any digital revolution has done before. AI might be the largest watershed in technology since the start of computing. Now more than ever, startups can take advantage of the fact that the deck of cards are reshuffled entirely.
We will have some great special guests for you who will talk about what is coming up, what that means for speed globally and what it all means for startups.
The list includes Rick Champagne; NVIDIA 's Director of Media & Entertainment Strategy & Marketing, Koen Bonenkamp; co-founder of Autoscriber (Healthcare AI company that rides the current wave but was already at it before), Kevin Cochrane; Chief Marketing Officer at Vultr and last but not least, Lucien Burm; chair of Dutch Startup Association.
⏰ When? 14 September, 17.30 – 20.30 (program starts at 18.00)
📍Where? Mediamatic: Dijksgracht 6, 1019 BS, Amsterdam
Organised by Dutch Startup Association. Sponsored by Vultr.