Agenda
Geplaatst door: Twitch
TWITCHCON 2022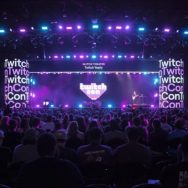 Calling all streamers and viewers! Mark your calendars because this is the moment we've all been waiting for — TwitchCon is back for the Ultimate Squad Up and here are all the deets! TwitchCon Amsterdam will be held at RAI Amsterdam on 16-17 July. Haven't been to TwitchCon? It's an epic celebration for people who love Twitch — creators, chatters, cosplayers, mods and more!
The Call for Content for TwitchCon Amsterdam is now LIVE. That means TwitchCon is calling all musicians to take the stage, cosplayers to compete in the Cosplay Contest, panelists to bring invaluable insights to the show, friends and communities to connect through MeetUps, and artists of all kinds to take a booth in TwitchCon's first European Artist Alley!
There is one more surprise. TwitchCon Amsterdam is hosting their first ever Drag Showcase on the Glitch Stage and they're on the lookout for drag performers to show off their talents!
So what are you waiting for? Keep an eye out for tickets for TwitchCon Amsterdam, which will go on sale this spring, and be sure to follow the TwitchCon Twitter for updates. Ready to Squad Up? It won't be the same without you.