Agenda
Geplaatst door: Supercharge
Webinar: Creating Next-Gen Medical Devices – The Digital Component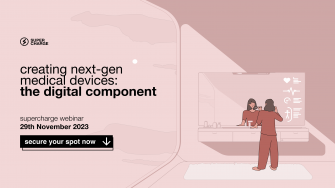 Explore the intersection of three key trends shaping the future of medtech: the rise of connected devices, our growing reliance on digital solutions, and the advancements in data processing and AI.
Join our international panel of digital health experts in a webinar discussing the vital role of companion apps, the significance of app integration in treatment, effective data reporting to doctors, and innovative approaches for the healthcare industry. Aimed at creators, this event offers practical insights to enhance the success of your innovations in the rapidly evolving landscape of medical technology.
Join us to take your healthtech product to the next level! For more detailed information and registration check the event link.