Agenda
Geplaatst door: Emerce Academy
ChatGPT in Copywriting & Conversie
E-mailadres
academy@emerce.nl
Organisatie
Emerce Academy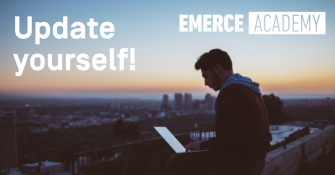 AI tools zoals ChatGPT zetten ons vak op zijn kop. Wil jij als marketeer, ondernemer of communicatieprofessional leren hoe je AI slim inzet voor meer conversie? Wil je leren welke vragen je aan de AI-apps moet stellen om tot het juiste eindresultaat te komen? Ontdek hoe je meer content in minder tijd maakt: leer hoe je effectief e-mails, landingspagina's, blogs, social media posts, product- en SEO-teksten creëert.
Conversiegerichte copy en beeld met bewezen raamwerk.
Kracht van prompt schrijven en de juiste vragen stellen.
Effectief inzetten van AI door begrip van menselijk lees- en beslisgedrag.
Schrijven wordt snappen. Leer hoe je de juiste vragen stelt en hoe je je content daarna uniek en eigen maakt. Je ontdekt waarom het belangrijk is om "door te vragen" en hoe je aan de hand van 7 bewezen criteria kunt beoordelen of de output goed genoeg is.
Leer hoe je je eigen creativiteit, eigenheid en emotie toevoegt aan tekst en beeld. Hiermee maak je het verschil. The devil is in the details. Daar verandert AI niets aan. Nu heb je kans om je als professional te onderscheiden in alle ruis die op ons afkomt.