Agenda
Geplaatst door: Emerce
Deep dive Video Marketing
E-mailadres
academy@emerce.nl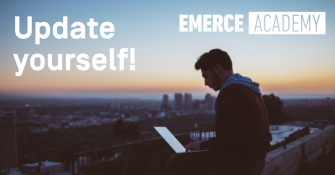 Uit consumenten onderzoek blijkt dat 80% van de ondervraagden video prefereert boven geschreven tekst. Daarnaast is YouTube het afgelopen jaar Facebook voorbijgestreefd als het populairste kanaal om consumentengedrag te beïnvloeden.
Voor jou?
Deze deep dive is bedoeld voor iedereen die wil starten of groeien met het maken van online video content. Bijvoorbeeld social media specialisten, (content)marketeers, maar ook ondernemers en cameramannen. Oftewel: voor iedereen die de resultaten van video content wilt vergroten.
Omschrijving
Er is een sterk stijgende lijn in online video consumptie zichtbaar en die stijging lijkt voorlopig niet af te nemen. Uit onderzoek is gebleken dat 9 van de 10 kijkers graag meer inhoudelijke video's willen zien van merken en bedrijven.
Tijdens deze deep dive word je geholpen met het zetten van stappen op het gebied van online video content voor je bedrijf of merk. In 3 uur bespreekt Francine Bout onderwerpen als video strategie, algoritmes van verschillende sociale- en videoplatformen, quick wins om je videos beter te laten scoren, meetbaarheid en KPI's, verschillende soorten videocontent en nog veel meer.