Breda Game City at gamescom 2022 with prosperous gaming studios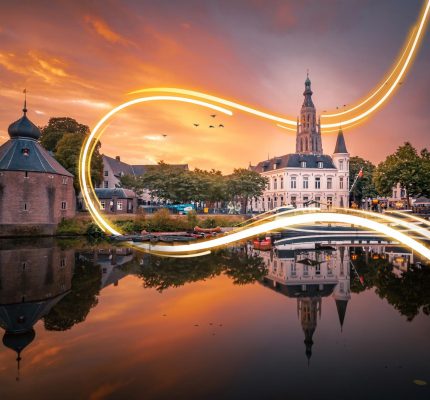 BREDA, THE NETHERLANDS, August 10, 2022 – Breda Game City Foundation will be attending this year's gamescom in Cologne, Germany! Representing 10+ companies from Breda and region, Breda Game City plans to make an exciting presence as the newest West-European videogame city.
Breda Game City (BGC) is on a mission to put the Dutch city of Breda on the international videogame map. Gamescom is one of the world's most important international events for the videogames industry. Attending the event as a Breda delegation will serve two of the foundation's most important goals: supporting Breda video game companies and the local ecosystem, as well as offering international companies information about Breda's outstanding factors that make it a perfect city to establish a business in or expand to.
Breda is a modest but hard to ignore hidden gem on a global videogame level. Industry experts already acknowledge the fact that Breda stands out by offering the best qualified alumni in the video game industry thanks to the outstanding performances of Breda University of Applied Sciences (BUas).
Robert Grigg, Director of the Academy for AI, Games and Media at BUas, states that, "Over the last decade, BUas has gained a reputation for offering one of the best game development courses in the world. With all the talent graduating each year from BUas, in combination with the efforts of the local government and the flourishing ecosystem, it will be hard to ignore the economic, social, and employment impact of the video game industry in the city of Breda in the next 5 years."
BGC is part of a larger, Dutch delegation attending Gamescom which offers developers, partners and other professionals the chance to participate in the conference, to network and to connect with peers. This year, some of the partners that BGC will be presenting are Twirlbound, Sassybot, StickyLock, Infinity Interactive, Breda University of Applied Sciences (BUas) and many more!
Programme & Activities during gamescom
Tuesday 23 August:
In cooperation with Courage Cologne, there will be a get together on Tuesday evening to kick off gamescom. Attendees get the chance to meet each other in an informal setting to broaden their networks. Register here: https://courage.events/event/courage-cologne-2022/
Wednesday 24 August:
Wednesday afternoon there will be a Best of Breda tour to share Breda's success stories. Please get in touch with the team via team@bredagamecity.nl if you are interested in joining our tour.
Full delegation Breda Game City:
Breda Game Cityhttps://bredagamecity.nl
Breda Businesshttps://www.bredabusiness.com
Twirlboundhttps://twirlbound.com
Viscacha Studioshttps://twitter.com/aridsurvival
StickyLockhttps://stickylock.com
Van Iersel Luchtmanhttps://vil.nl/gaming
Sassybothttps://sassybot.com
Breda University of Applied Scienceshttps://www.buas.nl
ESJ Financial Engineeringhttps://esj.nl
Infinity Interactivehttps://www.infinity-interactive.com
MelonadeFX https://melonadefx.com
Collision Fox
Thanks to the Municipality of Breda, BGC is able to support the delegation and its participants. Exhibiting at gamescom is part of BGC's (internationalisation) strategy, which is part of the Municipality's broader long term Applied Technology and Creativity policy. Showcasing the latest projects rooted in Breda at gamescom is the best way to achieve goals on local, national and global level!
###
Official website: https://bredagamecity.nl/
Press kit: http://go.bredagamecity.nl/PressKit
LinkedIn: https://www.linkedin.com/compa…
Twitter: https://twitter.com/BredaGameCity
Newsletter: https://bredagamecity.nl/newsletter
About Breda Game City
Breda Game City is a non-profit organisation that focuses on elevating the Breda video games industry and creating a professional, healthy & creative environment.
BGC is raising awareness for the city of Breda itself as an ideal new European hotspot for video game related companies looking for a new or additional home base, therefore contributing to the entire Dutch videogame ecosystem.
Breda offers a unique proposition for companies ready to re-establish or expand to Breda in the south of the Netherlands – in terms of atmosphere, infrastructure, quality of working and social life, and growth opportunities. In addition to that, Breda's talent pool is enormous and of extremely high quality due to the presence of Breda University of Applied Sciences (BUas), one of the highest ranked international educational institutes for the videogame industry worldwide.
Dit artikel is een ingezonden bericht en valt buiten de verantwoordelijkheid van de redactie.